With InstaMed, you can pay all your healthcare bills in one place.
This includes bills from any:






Frequently Asked Questions
How do I get started?
All you need is your healthcare bill!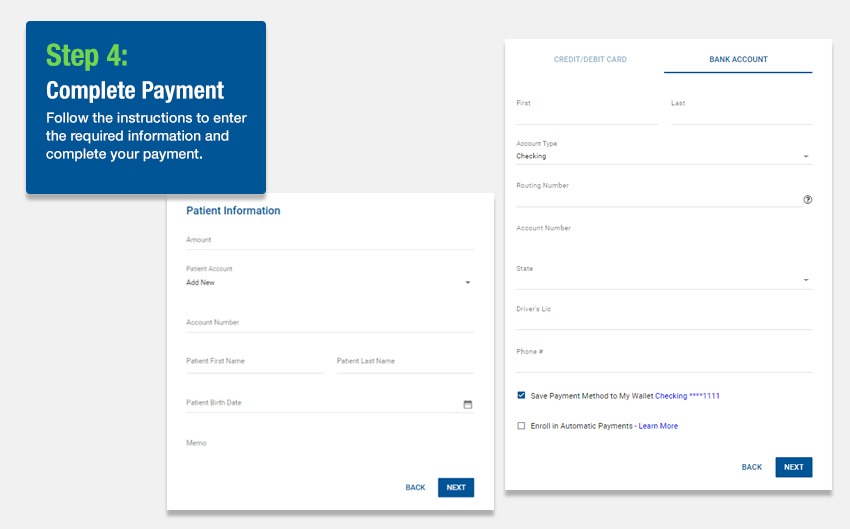 What should I do if I have questions about my bill?
Please contact your healthcare provider for questions about the amount of the bill or any other information related to the provider's business.
What types of payments are accepted?
InstaMed accepts credit or debit card payments as well as payments from a checking or savings account. Your provider may accept all or some of these payment types. When you enter your payment information, you'll be able to select from the payment types available for your provider.
Is my payment secure?
By using InstaMed for your healthcare bills, you'll get the benefits of healthcare's most trusted payment network.
At InstaMed we take security seriously. We are certified as a Level One v3.2 Service Provider with the Payment Card Industry Data Security Standard (PCI DSS), as well as the Visa Cardholder Information Security Program (CISP) and Mastercard Site Data Protection (SDP) Program. Learn more.
How can I see the status of my payment?
As soon as you make your payment, you'll see a receipt on the screen. A confirmation with payment details will be emailed to you.
To find a list of all your payments showing the status of each, select Activity on your Patient Portal Home page. On the Activity screen, select any payment to see its receipt.
When will my healthcare provider receive my payment?
InstaMed will send your payment within one to two business days. Electronic payments will be received by a provider as soon as the next day. Mailed payments will be received within seven to ten business days.
You can check the status of your payments on the Payment History screen by selecting Activity from your Patient Portal Home page.
Note: Your provider must accept and process the payment they receive from you. If this hasn't occurred within six to eight weeks, InstaMed will cancel the payment and credit your account for a full refund. You should contact the provider's office to complete payment.
What if I need to cancel my payment?
Mailed payments can be canceled for up to two days after the initial transaction. When you visit your Payment History screen (select Activity on your Patient Portal Home page) you'll see a list of all the payments you have made through the Patient Portal. Payments eligible for cancellation are marked with a Cancel link, which you can select to cancel the payment.
Note: If it has been more than two days since you made the payment, there will be no Cancel link. In such cases, please contact InstaMed Customer Service at [email protected] for further direction.
I made a payment to my provider, but I still received a statement for the amount I owed. Why did this happen?
The statement may have been sent to you before your provider received and processed your payment. Or, your provider may not have updated their system to reflect your payment. Please contact your provider for more information.
If your provider hasn't received payment, or if they have any questions, please ask them to contact InstaMed Customer Service at [email protected].
My payment didn't go through. What happened?
There are several reasons a payment may fail. Please check the following:
Check for typos in your bank account information.
Double check your bill to make sure you've entered the correct mailing address for your healthcare provider.
If you discover an error in your entry, you may cancel the payment up to two days after you submitted it. Beyond that time, please contact InstaMed Customer Service at [email protected] for assistance with cancellation.