Simple. Secure. Convenient. Efficient. Solutions for a better healthcare payments experience.
Deliver a frictionless payment experience for your members, providers and employer groups. Our industry-leading solutions for health plans will help your organization enhance the healthcare financial experience with payment innovation, drive higher rates of ERA/EFT adoption and accelerate your growth.
The Way You're Paying Providers Can Be Better
Disbursement Hub is one place for simple, transparent and secure payments, built for healthcare, delivering a frictionless experience for payers, providers and employers.
Trends, Challenges, and Opportunities for Payers
The trends in healthcare payments are clear – change is needed now. Download this informative white paper for the latest healthcare trends that payers must know.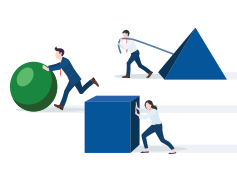 Can Payers Compete With Retail Giants?
Retail giants are making strategic moves into the healthcare industry with new mergers and acquisitions making constant headlines. Can payers compete with the scale and innovation of the retail industry?
GHC-SCW Looks to InstaMed for All of Its Payments
"InstaMed is a trusted payments partner that helps keep our organization running smoothly. Our long-term roadmap includes InstaMed at every payment touchpoint."
John Argentiero,
Enterprise Solutions Architect, 2021